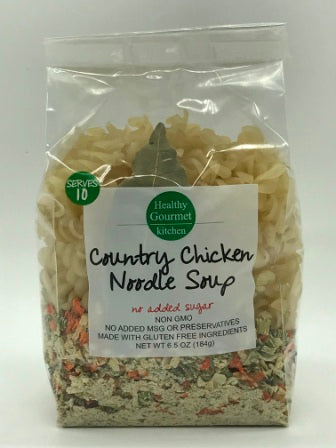 Gluten Free Chicken Noodle Soup
Our gluten free chicken noodle soup mix makes a thick chunky soup loaded with carrots and delicious organic gluten free noodles made from quinoa and brown rice. Your family will love this soup and marvel at your cooking skills - it's good made with just water and cut up cooked chicken or to make it truly delicious chop one onion, add 1 tablespoon olive oil or butter and use chicken broth (8 cups) and 1 - 2 cups of water. If you have any leftover veggies around toss them in as well.
Chop one onion, add to 4 quart pot. Add 8 cups chicken broth and 1 - 2 cups water. Bring to boil. Add contents of soup package and 1 tablespoon of olive oil or butter. Reduce heat to med-low and simmer 15 minutes. Cut up leftover cooked chicken and add to pot at anytime.
Great way to use up leftover rotisserie chicken.
Gluten free chicken noodle soup mix is great to have on hand when you're too busy to cook. Add some cut up cooked chicken and serve with a salad and crusty bread for a complete meal.
Noodles are certified organic and certified gluten free.
If you're looking for more gluten free products, all of our products are gluten free with the exception of Tuscan Tortellini soup, Pasta Fagioli soup and Country Chicken Noodle soup made with egg noodles. We package these items in a separate room using dedicated equipment.
Yum